Three Dimensional Blender
Three Dimensional Blender Characteristic:
1. Three Dimensional Blender possesses high mixing uniformity.
2. Three Dimensional Blender can use for Perfume Three Dimensional Blender and Perfume Powder Blender
3. Highly polished inner and outer surfaces of the barrel, no dead comer, easy to discharge materials, easy to clear, no cross contamination. Confining to the requirement of GMP.
4. Control system has more choices, such as push button ,HMI+PLC and so on.
5. The feeding system for this mixer can be by manual or pneumatic conveyor or vacuum feeder or screw feeder and so on
6. Three Dimensional Blender made by all stainless steel.
7. For the cleaning, Hywell can supply the high pressure spray water device to clean the mixing inside.
Hywell Blending Machine Application and Features:
1.The blender are suitable for mixing powder and granulate materials in pharmaceutical, chemical, food stuff, light industry, electronic, machinery, mining, metallurgical and national defense industrial, featuring high evenness mixing.
2. Mixing barrel moves in multiple directions, there is no centrifugal force on the material, as well as no phenomena of gravity segregation, delaminating and accumulation of materials so that the mixing rate can be up to 99.9 percent for the materials with big difference in terms of specific gravity. Therefore, this salt mixing machine is an ideal product current compare with other various mixers.
3. High loading rare (max. loading 80 percent)
Product Parameter:
| | | | | | | | |
| --- | --- | --- | --- | --- | --- | --- | --- |
| Model | barrel capacity(L) | max loading capacity(L) | max loading weight(Kg) | speed of driving shaft(r/min) | motor power(kw) | overall dimensions(mm) | total weight |
| SYH-1 | 1 | 0.8 | 0.4 | 15-30 | 0.12 | 500x600x600 | 50 |
| SYH-5 | 5 | 4 | 2 | 15-30 | 0.25 | 600x1000x1000 | 150 |
| SYH-15 | 15 | 12 | 6 | 8-15 | 0.37 | 700x1000x700 | 200 |
| SYH-50 | 50 | 40 | 20 | 8-15 | 1.1 | 1000x1400x1200 | 300 |
| SYH-100 | 100 | 80 | 40 | 8-15 | 1.5 | 1200x1700x1500 | 500 |
| SYH-200 | 200 | 160 | 80 | 8-15 | 2.2 | 1400x1800x1600 | 800 |
| SYH-400 | 400 | 320 | 160 | 8-15 | 4 | 1800x2100x1950 | 1200 |
| SYH-600 | 600 | 480 | 240 | 8-15 | 5.5 | 1900x2100x2250 | 1500 |
| SYH-800 | 800 | 640 | 320 | 8-15 | 7.5 | 2600X2380X2500 | 2000 |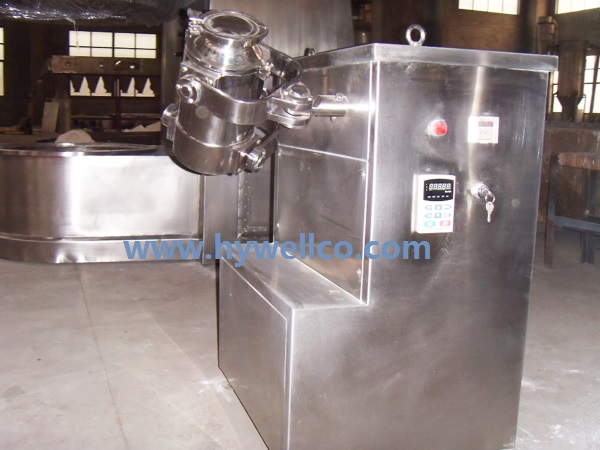 Kategori Produk : Pencampuran mesin > Mesin Pencampur Bubuk